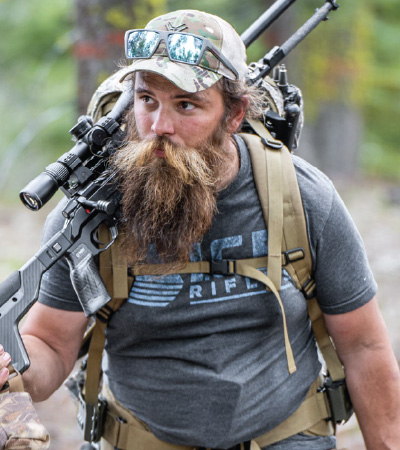 I'm a full time marksmanship instructor/performance coach. My goal for 2023 is a top 10 overall spot for the season. Nothing beats hard work and training when it comes to getting better.
| | |
| --- | --- |
| | |
| Years Shooting Competitively: | |
| | |
| | |
| | |
| Favorite Restaurant at Matches: | Casa do Brazil, College Station, Texas |
| Recommended Unconventional Gear: | Chamois to dry gear in the rain |


Andy runs a custom built PRS rifle based on a Lone Peak action with Hawk Hill barrel in a MDT ACC Elite chassis. The MDT One-Piece Scope Mount ensures he never has to worry about his zero when travelling to matches. The MDT CKYE-Pod allows him the versatility to build perfect positions for any shot. It works well with the MDT MV3 Electronic Level to ensure his rifle isn't canted when taking long-range shots.

When Andy isn't training for PRS Competitions, he still loves to shoot. For hunting or other endurance style long-range shooting competitions he prefers a more lightweight rifle build. The MDT HNT26 is the lightest backcountry hunting chassis on the market. Whether it's in the mountains of Idaho chasing black bear, or going through the gruelling Mammoth Sniper Challenge, the MDT HNT26 is his go-to chassis. It hosts a ton of great features like the full-length ARCA forend, folding stock, warm carbon-fiber handguard, and more. He uses his custom action Loan Peak Fusion TI with a Remington 700 footprint that drops right in for easy installation at home.