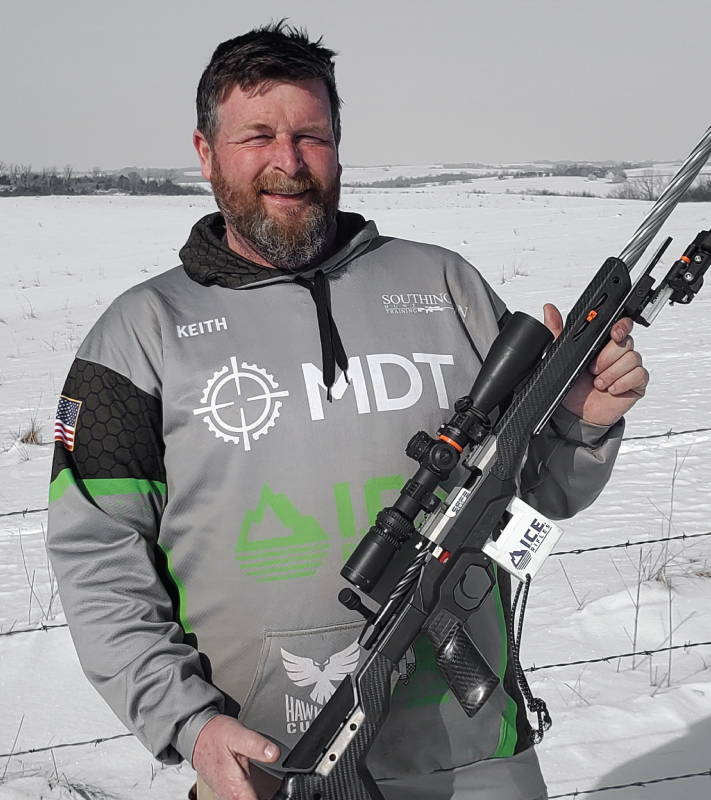 I have been shooting competitively in various fields (archery, pistol, rifle, shotgun) since I was in kindergarten. In my real life, I am a rifle builder and shooting competitor. My shooting goals are very simple: always be as prepared as I possibly can be, challenge myself to improve every match, and compete to the best of my ability. I consider myself to be a professional practicer and my competitive drive has always been a big part of my life in whatever I do.
| | |
| --- | --- |
| | |
| Years Shooting Competitively: | |
| | |
| | |
| | |
| Favorite Restaurant at Matches: | |
| Recommended Unconventional Gear: | Needle and thread; Nexcare foam tape; electrolite tabs. |


Keith Baker is running the Remington 700 footprint Lone Peak Fuzion Action with a Hawk Hill Xtra heavy Palma custom contour barrel, chambered by ICE Rifles in 6mm BR. It's sitting in an MDT ACC Elite Chassis. For glass, he has a Vortex Gen III Razor, 6-36 mounted with the MDT One-Piece Scope Mount. He runs a BixN'Andy TacSport Pro Trigger. Other accessories include the Baker Wings, MDT vibration dampeners, MDT internal and external weights, MV3 SendIt Level, MDT Comp Brake, and a Double-Pull Ckye Pod.